Featured Titles

Featured Creators

Categories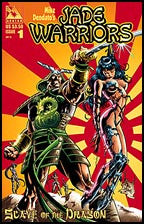 Jade Warriors: Slave of the Dragon #1
$3.50

JADE WARRIORS: SLAVE OF THE DRAGON #1
Retail Price: $3.50 US
Cover: Mike Deodato
Writer: Dave Campiti
Artwork: Mike Deodato
Readership: All Ages
Format: Full color, 40 pages, 1 of 3, bi-monthly

PRODUCT DESCRIPTION: One of the most popular artists of the past decade is unleashed in all-new full color action! Mike Deodato is back with his fabulous Jade Warriors in this super-sized first issue that is sure to please fans of his Wonder Woman work as well as Image fans in general. Deathkiss and the Jade Warriors have had enough trouble with the Yakuza but now the destruction of Japan is at hand, from a reborn Dragon! Can the femme fatales escape their bondage before they become the beast's first meal? This issue also features a special bonus section that brings new readers up to date on everything that has come before.
Release Date: Jan-01-2014