Featured Titles

Featured Creators

Categories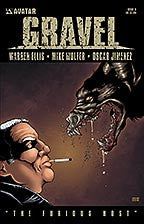 GRAVEL #5
$3.99
Cover: Mike Wolfer
Writer: Warren Ellis, Mike Wolfer
Art: Oscar Jimenez
Readership: MR
Format: Full Color, 32 pages, on-going monthly

PRODUCT DESCRIPTION: Gravel, the explosive monthly series from Ellis and Wolfer, continues its wild and bloody run! After his victory in a frenzied battle to the death with Edwin Royston and nine powerful Combat Magicians, William Gravel travels to the remote English countryside to collect the spoils of his personal war: the grand Shockham Hall and the fourth piece of the Sigsand Manuscript. Retrieving this section of the most powerful Occult tome ever written will not be easy, however, because there is something in the woods leading to Shockham Hall, and something in the black skies above that thunders down with Apocalyptic fury. These are the riders of the dead, and a beaten and exhausted William Gravel is about to become the prey in the legendary Wild Hunt! This issue is available with a regular cover by Mike Wolfer, a wraparound by new series artist Oscar Jimenez, and also a rare 1-in-15 Black Magic Edition featuring a new cover by Wolfer.
Release Date: Jan-01-2014