Featured Titles

Featured Creators

Categories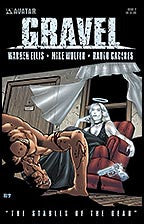 GRAVEL #2
$3.99
Cover: Mike Wolfer
Writer: Warren Ellis, Mike Wolfer
Art: Raulo Caceres
Readership: MR
Format: Full Color, 32 pages, on-going monthly

PRODUCT DESCRIPTION: He has seen and participated in some of the most horrific, supernatural events that mortal eyes have ever beheld, but when his personal integrity has been attacked, the line has just been crossed! Combat Magician and Occult Detective William Gravel continues to cut a bloody swathe across the English countryside as he tracks down the next member of the Minor Seven, the secret enclave of occult practitioners who have unceremoniously ousted Gravel from their ranks. With two sections of the dissected occult artifact known as the Sigsand Manuscript now in his hands, Gravel has a new mission, beyond personal retribution: Retrieving of the remaining pieces of the Sigsand from the hands of the surviving Minor Seven. But that's easier said than done, when the next magician on his list is an apparition, in control of a stampeding, blood-thirsty herd of ghost horses that charge forth into the night from "The Stables Of The Dead!" This issue is available with a regular cover by Mike Wolfer, a wraparound by Raulo Caceres, and also a rare 1-in-15 Black Magic Edition featuring a new cover by Wolfer.
Release Date: Jan-01-2014