Featured Titles

Featured Creators

Categories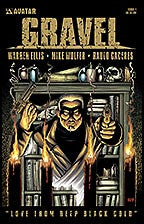 GRAVEL #1
$3.99
Cover: Mike Wolfer
Writer: Warren Ellis, Mike Wolfer
Art: Raulo Caceres
Readership: MR
Format: Full Color, 32 pages, on-going monthly

PRODUCT DESCRIPTION: It's never a dull day, being a Magician. The mad mind of Warren Ellis is once again unleashed on combat magician William Gravel, this time on a full-color, on-going monthly series! Magic. Everyone thought that he was dead, including the Minor Seven, the secret enclave of Britain's Occult Detectives. But Combat Magician William Gravel is very much alive and looking for the answers to how and why his place in the Minor Seven was filled by another and what the secret society is doing with the Sigsand Manuscript, an ancient supernatural text of unparalleled power. In a quiet, country cottage, Gravel will find the first clues to the Sigsand's location and in the darkness of the cottage's basement, a disturbing, unnatural thing that slithered into our dimension by the power of the ancient tome... Brought here from somewhere that mortal man could not possibly comprehend. The kind of magic that can strip the skin from a screaming man's skull, or direct the path of a shrieking bullet through a maze of city streets, striking its target between the eyes with pin-point accuracy. This is not just magic... This is Combat Magic, wielded by Sergeant Major William Gravel, Warren Ellis' cult-hit sensation from the pages of STRANGE KISS and STRANGE KILLINGS, now in his own, ongoing, full-color monthly series! This issue is available with a regular cover by Mike Wolfer, a wraparound by Raulo Caceres, a special Signed Poster edition package with a color poster of the #0 cover signed by artist Mike Wolfer, and also a rare 1-in-15 Black Magic Edition featuring a new cover by Wolfer.
Release Date: Jan-01-2014