Featured Titles

Featured Creators

Categories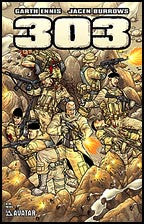 Garth Ennis' 303 Preview
$4.00
Garth Ennis' 303 Preview
Retail Price: $0.99 US
Cover: Jacen Burrows
Story: Garth Ennis
Art: Jacen Burrows
Readership: Mature Readers
Format: Color, 12 pages

PRODUCT DESCRIPTION: Garth Ennis is unleashed on his first major creator-owned series in years! Ennis and red-hot artist Jacen Burrows are going to blow the doors off summer 2004 with this full-color six issue action-packed epic from the twisted mind of Ennis! A very hard man leads the Russian special forces team that is investigating a downed plane in Afghanistan. But when British and US forces also get thrown in the mix, tension turns to carnage as the whole mission goes sideways. Then Ennis really lets loose. This special preview gives you a teaser of what is sure to be one of the most talked-about series of the year.

Release Date: Jan-01-2014