Featured Titles

Featured Creators

Categories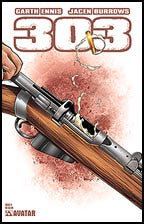 Garth Ennis' 303 #6
$5.00
Garth Ennis' 303 #6
Retail Price: $3.99 US
Cover: Jacen Burrows
Story: Garth Ennis
Art: Jacen Burrows
Readership: Mature Readers
Format: Full color, 32 pages, monthly 6 of 6

PRODUCT DESCRIPTION: Garth Ennis concludes his newest major, full-color, creator-owned epic with a stunning twist and all-out action! This series features the astounding artistic talent of Jacen Burrows (Alan Moore's The Courtyard, Warren Ellis' Scars) and the luscious colors of Nimbus Studios. He's come ten thousand miles to fire one bullet at the only target he cares about. Now, the anonymous Russian Colonel faces his final test- but when he finds his victim in his sights, has he got what it takes to pull the trigger? Or do the ghosts that dog his heels have other plans for him? Find out, in the final shocking episode of 303. Available in regular and wraparound covers by Burrows.

Release Date: Jan-01-2014