Featured Titles

Featured Creators

Categories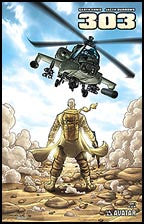 Garth Ennis' 303 #3
$5.00
Garth Ennis' 303 #3
Retail Price: $3.99 US
Cover: Jacen Burrows
Story: Garth Ennis
Art: Jacen Burrows
Readership: Mature Readers
Format: Full color, 32 pages, monthly 3 of 6

PRODUCT DESCRIPTION: Garth Ennis, the author of Preacher and writer of Punisher, is unleashed on his newest major, full-color, creator-owned epic! This all-new series features the astounding artistic talent of Jacen Burrows (Alan Moore's The Courtyard, Warren Ellis' Scars) and the luscious colors of Nimbus Studios. The truth is revealed, leaving the Russian Colonel with a task so terrible that he turns his back on all he has known. But there are battles still to be fought high in the peaks of the North-West frontier, and all concerned soon realize that Afghanistan isn't finished with them yet. One man and his ancient rifle set off on a rendezvous with death, in 303 issue 3. Available in regular and wraparound covers by Burrows.

Release Date: Jan-01-2014