Featured Titles

Featured Creators

Categories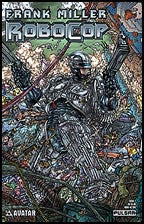 Frank Miller's ROBOCOP #7 Robo-Action Edition
$5.99
Frank Miller's ROBOCOP #7 Robo-Action Edition
Retail Price: $5.99 US
Cover: Juan Jose Ryp
Story: Frank Miller
Art: Juan Jose Ryp
Readership: Mature Readers
Format: Full color, 32 pages, monthly 7 of 9

PRODUCT DESCRIPTION: Juan Jose Ryp unleashed the power of Robocop on this explosive new cover! Everything spirals out of control as Delta City goes up in flames! The cops are being hunted by the Rehabs, and they don't even have enough bullets to defend themselves. Robocop takes the fight right to the OCP headquarters, but a special surprise is waiting for him... It is wall-to-wall action as we build to the conclusion of the most violent series of the year! This series continues to take the original Frank Miller Robocop story and faithfully adapt it into comics form by Steven Grant in order to capture every bit of the frenzied flavor that Miller wants with lusciously detailed artwork by Juan Jose Ryp. Limited to 1500 copies.

Release Date: Jan-01-2014