Featured Titles

Featured Creators

Categories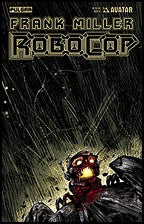 Frank Miller's Robocop #6
$5.00
Frank Miller's ROBOCOP #6
Retail Price: $3.50 US
Cover: Frank Miller
Story: Frank Miller
Art: Juan Jose Ryp
Readership: Mature Readers
Format: Full color, 32 pages, monthly 6 of 9

PRODUCT DESCRIPTION: The Robo-action kicks into high gear with more pure-Frank Miller insanity! Robocop is in for the fight of his life against the staggering new firepower of Robocop 2! These two metal behemoths take their conflict into the subways, and Lord help anyone else down there! Mayhem, murder and mutilation as only Frank Miller can write it! This series continues to take the original Frank Miller Robocop story and faithfully adapt it into comics form by Steven Grant in order to capture every bit of the frenzied flavor that Miller wants with lusciously detailed artwork by Juan Jose Ryp.

Release Date: Jan-01-2014