Featured Titles

Featured Creators

Categories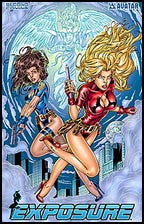 Exposure: Second Coming #1
$5.00
EXPOSURE: SECOND COMING #1
Retail Price: $3.50 US
Cover: Al Rio
Writer: Dave Campiti
Artist: Al Rio
Readership: All Ages
Format: Full color, 40 pages, bi-monthly (1 of 2)

PRODUCT DESCRIPTION: Al Rio's smash sensation series comes to Avatar in vivid full color! Hot off a stellar four issues with Image, this new series features Rio's beautiful women of mystery drawn more lusciously than ever. This special forty page oversized first issue drops Lisa and Shawna in the middle of another paranormal mess as a billionaire is accused of impossibly horrific murders. This issue also features the women in a lingerie clad photo session that are some of the hottest pages Al Rio has ever drawn! A perfect series for fans of Avengelyne, Danger Girl, and Gen 13!
Release Date: Jan-01-2014