Featured Titles

Featured Creators

Categories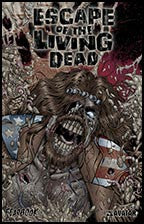 ESCAPE OF THE LIVING DEAD: Fearbook #1
$3.99
Cover: Mike Wolfer
Writer/ Artist: Mike Wolfer
Readership: MR
Format: Full Color, 32 pages

PRODUCT DESCRIPTION: The smash story from John Russo's Escape of the Living Dead series continues with art from super-star Mike (Friday the 13th) Wolfer! Before he was one of the undead, he was one of the living and now, the secrets of ESCAPE OF THE LIVING DEAD's breakout zombie star are revealed! Deadhead, the enigmatic, Stars and Stripeswearing leader of the army of the walking dead is not like his rotting brethren. Something burns within him, something beyond the hunger for human flesh, something that the zombie multitude recognizes as a power that even they should fear. In the continuation of creator John Russo's saga of The Living Dead, the murder of the man that is Deadhead will be exposed as we witness the horrific events that now drive him in his inexhaustible pursuit of one thing... Make that two things: Human entrails and vengeance! The terror lives on several covers including the Regular, Wraparound, Terror, Gore, and Body Count by Mike Wolfer, and a special leather cover by Wolfer limited to just 900 copies!
Release Date: Jan-01-2014