Featured Titles

Featured Creators

Categories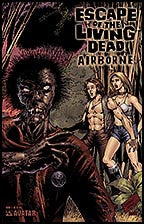 ESCAPE OF THE LIVING DEAD: Airborne #3
$3.99
Cover: Dheeraj Verma
Writer: Mike Wolfer
Art: Dheeraj Verma
Readership: MR
Format: Full Color, 32 pages, 3 of 3

PRODUCT DESCRIPTION: John Russo's Escape of the Living Dead continues with an all-new tale of the continuing spread of the zombie virus... But now, it's taken a different and even more treacherous turn! Stranded on a cross-country trip and trapped in the Pennsylvania woods, a trio of hippies fights for their lives against an army of the undead. But it gets worse, as they find that even their slain friends and lovers are inexplicably rising from the dead to join the ranks of the murderous ghouls out to devour them! Led by the messianic Deadhead, the blood-thirsty zombies begin a final assault on the survivors, but even if they live through the night, can they possibly escape the creeping secret of the zombie virus itself? As well as the Standard cover by Verma, this issue is available with Wraparound, Terror, Body Count, Gore, and Splatter Stock (that features a special cardstock cover) covers by series artist Dheeraj Verma!
Release Date: Jan-01-2014