Featured Titles

Featured Creators

Categories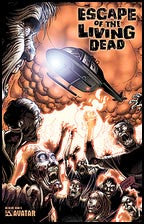 ESCAPE OF THE LIVING DEAD #5
$5.00
ESCAPE OF THE LIVING DEAD #5
Retail Price: $3.99 US
Cover: Dheeraj Verma
Story: John Russo
Art: Dheeraj Verma
Readership: Mature Readers
Format: Full Color, 32 pages, 5 of 5

PRODUCT DESCRIPTION: They thought it was over, but the Dead still walk the Earth! The co-writer of the classic film NIGHT OF THE LIVING DEAD brings his all-new, never-before-seen zombie masterpiece to comics! The final confrontation with the bloodthirsty undead explodes in the conclusion of ESCAPE OF THE LIVING DEAD! Now aware that a new outbreak of the reanimation virus could result from the escape of zombies used for scientific study, the Allegheny County Sheriff's Office begins their high-powered assault against the army of the living dead. Trapped in the middle of the all-out, gut-spilling battle at the Roadhouse Tavern, Henry Brinkman is powerless to help his daughter Sally, now in the clutches of the flesh-hungering kidnapper that she has just killed! As well as this regular cover by series artist Dheeraj Verma, it's also available with a Wraparound, Gore, and Terror by Verma, and a special Die Cut cover with art by Mike Wolfer.

Release Date: Jan-01-2014