Featured Titles

Featured Creators

Categories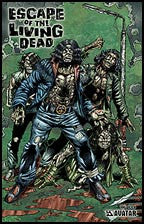 ESCAPE OF THE LIVING DEAD #1
$7.00
ESCAPE OF THE LIVING DEAD #1
Retail Price: $3.99 US
Cover: Dheeraj Verma
Story: John Russo
Art: Dheeraj Verma
Readership: Mature Readers
Format: Full Color, 32 pages, 1 of 5

PRODUCT DESCRIPTION: The writer of the classic film NIGHT OF THE LIVING DEAD brings his all-new, never-before-seen zombie masterpiece to comics! 1971: It's been three years since the blood-soaked night that the dead rose from their graves, attacking and devouring the living. Now, the legacy of that horrific and unexplained event is about to be unleashed once again upon an unsuspecting world... But this time, there may be no escape for those in the terrifying clutches of the cannibalistic, living dead! Hidden within the concrete walls of a secret medical research lab, someone has been studying the last remaining undead remnants of the marauding zombie army. Unleashed by the untimely intervention of a group of road-weary bikers looking for an easy score, the walking dead renew their gut-ripping campaign of terror. As each member of a rural community dies in the grotesque feeding frenzy of the zombies, so does the nightmare army grow, as half-eaten victims rise up to join the ranks of the undead. Can anything possibly contain the contagion being spread by the Escape Of The Living Dead? As well as this regular cover by series artist Dheeraj Verma, it's also available with a Wraparound and Gore by Verma, a Terror cover by Mike Wolfer, and a super-limited black leather cover with art by Mike Wolfer.

Release Date: Jan-01-2014