Featured Titles

Featured Creators

Categories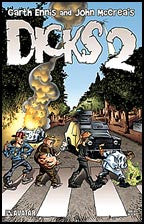 Ennis & McCrea's Dicks 2 #3
$5.00
Ennis' & McCrea's DICKS 2 #3
Retail Price: $3.50 US
Cover: John McCrea
Writer: Garth Ennis
Artist: John McCrea
Readership: Mature Readers
Format: B&W, 32 pages, monthly 3 of 4

PRODUCT DESCRIPTION: It is obvious that those deviantly twisted ballocks, Garth Ennis and John McCrea, hold nothing sacred as this issue turns into an insane Star Wars parody! Yes, we know it is like a religion, and to mock the mighty Lucas is too suffer eternal fiery damnation, but we're pretty sure this series has already guaranteed that!
However, the best thing about America is we can get away with totally offensive crap like this series! Dougie and Ivor have stolen the space shuttle, and it all pretty much goes downhill from there. Our motto is, it is better to laugh with the sinners, then cry with the big superhero book publishers! Keeping proud traditions alive, this issue is also available in an amazingly offensive cover!

Release Date: Jan-01-2014