Featured Titles

Featured Creators

Categories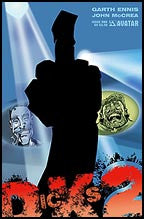 Ennis & McCrea's Dicks 2 #1
$5.00
Ennis' & McCrea's DICKS 2 #1
Retail Price: $3.50 US
Cover: John McCrea
Writer: Garth Ennis
Artist: John McCrea
Readership: Mature Readers
Format: B&W, 32 pages, monthly 1 of 4

PRODUCT DESCRIPTION: Should auld acquaintance be forgot...we're comin' back to get ye! Those two twisted ballocks, Garth Ennis and John McCrea, have returned with this all-new Dicks series. And this time, the Dicks are coming to America. Packed with just as much inflamatory humor as before, this series has a whole new country worth of things to make fun of! It's Dougie on guitar, Ivor yelling the tuns, Spence rappin' with the brothers and Wanker beating his... drums! Oh yes, the Dicks have formed a band are going to be Hell-raisin' across the USA. Can those dirty wee gets avoid making a disaster of our great land? Not a chance. Keeping proud traditions alive, this issue is also available in an unusally offensive cover!

Release Date: Jan-01-2014