Featured Titles

Featured Creators

Categories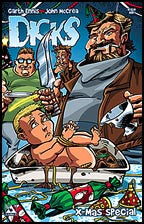 Ennis and McCrea's DICKS X-Mas Special #1
$5.00
Ennis & McCrea's DICKS X-MAS SPECIAL #1
Retail Price: $3.50 US
Cover: John McCrea
Story: Garth Ennis
Art: John McCrea
Readership: Mature Readers
Format: B&W, 32 pages, one shot

PRODUCT DESCRIPTION: Season's Greetings from those sick perverts, Garth and John! Everything that is holy about the wondrous season get skewered right here, as only those demented bollackses from Belfast could whip up. It just wouldn't be Christmas without Dougie and Ivor messing things up somehow. The AntiChrist? We've got 'em. Small holy children being killed in unique ways? Yep. Hitler, Satan and horny dogs? All right here. Plus you don't want to miss the spectacular return of the original whore with a heart of gold, Trio! So if you want to burn in the pits of Hell along with the rest of us laughing sinners, don't miss this X-Mas extravaganza! Also available with a spectactularly offensive cover. Honestly, it is just wrong and it shouldn't have been drawn, but if you have to see what Satan does for the holidays, now you can get it!

Release Date: Jan-01-2014