Featured Titles

Featured Creators

Categories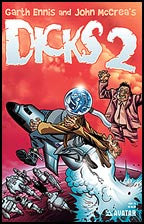 Ennis and McCrea's Dicks 2 #2
$5.00
Ennis' & McCrea's DICKS 2 #2
Retail Price: $3.50 US
Cover: John McCrea
Writer: Garth Ennis
Artist: John McCrea
Readership: Mature Readers
Format: B&W, 32 pages, monthly 2 of 4

PRODUCT DESCRIPTION: The best thing about America is we can get away with totally offensive crap like this series! So after much planning, those two twisted ballocks, Garth Ennis and John McCrea, have returned with this all-new Dicks series. We regret it already. This time, the Dicks are coming to America. Packed with just as much inflamatory humor as before, this series has a whole new country worth of things to make fun of! Not only does our proud President get the shaft, the space program gets more than its fair share of trouble! Why on Earth are we publishing this stuff, it only seals our place at the Devil's table? Yet, it is better to laugh with the sinners, then cry with the big superhero book publishers! Honestly, if you have any taste, stay away from this book. But if you are a twisted deviant creep like us, then you don't want to miss out on the Dicks Hell-raisin' across the USA. Can those dirty wee gets avoid making a disaster of our great land? Not a chance. Keeping proud traditions alive, this issue is also available in an amazingly offensive cover!

Release Date: Jan-01-2014