Featured Titles

Featured Creators

Categories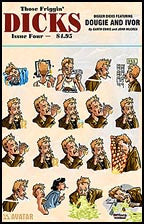 Ennis and McCrea's Bigger Dicks #4A
$5.00
Ennis and McCrea's BIGGER DICKS #4A
Retail Price: $4.95 US
Cover: John McCrea
Writer: Garth Ennis
Artist: John McCrea
Readership: Mature Readers
Format: B&W, 48 pages, monthly, 4 of 4

PRODUCT DESCRIPTION: Dougie and Ivor have never been mistaken for rocket scientists, but now it appears that their latest plan for fast cash is going to end up with both of them chopped into small pieces by very irate gangsters. Would madman Garth Ennis and John McCrea do that to their loved heroes? Or course they would, these men have no limits to their depravity! In fact the true levels of sickness that these bollocks unleash upon these very pages make grown men laugh themselves into convulsions. And those few readers who might have previously had pure virginal minds will become sick twistos like the rest of us comic folks. To top off the madness, they have even included a sneak peak of this summers forthcoming sequel! We must be sick just to publish this truly immoral material, and odds are high that while you laugh your butt off to the full-on, over-the-top humor you will be offended. But just to be sure you are, it is also available with a special hilarious Guaranteed to Offend cover! So bend over and steel yourself for the final Bigger Dicks!

Release Date: Jan-01-2014