Featured Titles

Featured Creators

Categories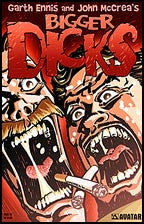 Ennis and McCrea's Bigger Dicks #2A
$5.00
Ennis and McCrea's BIGGER DICKS #2A
Retail Price: $4.95 US
Cover: John McCrea
Writer: Garth Ennis
Artist: John McCrea
Readership: Mature Readers
Format: B&W, 48 pages, monthly, 2 of 4

PRODUCT DESCRIPTION: The most twisted men in comics, Garth Ennis and John McCrea, have gone off the deep end yet again! The criminal and crazy exploits of Dougie and Ivor are continued here, with all of their psychotic friends along for the ride. This super-engorged monthly series features the original Dicks issues, with completely remastered lettering and artwork, and tons of all-new material. What the world really has been waiting for is right here: all new exploits of Wanker, the Dicks newest friend Trio the whore, a careful look at great Belfastmen in history, as well as a clearly bad idea for a superhero. But wait the new material doesn't stop there, it's just that the rest of it is wrong on so many levels that we can't list it! The flames of Hades are coming for all those involved, but fortunately the pages are already done! Odds are high that while you laugh your butt off to the full-on, over-the-top humor you will be offended. But just to be sure you are, it is also available with a special Guaranteed to Offend cover!

Release Date: Jan-01-2014