Featured Titles

Featured Creators

Categories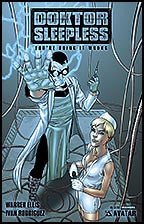 DOKTOR SLEEPLESS MANUAL #1
$3.99
Cover: Jacen Burrows
Writer: Warren Ellis
Art: Ivan Rodriguez, Felipe Massafera
Readership: MR
Format: Full Color, 32 pages

PRODUCT DESCRIPTION: The Doktor is back in -- print that is. The sold-out Doktor Sleepless #1 is now available as part of this special Manual #1. Here is the perfect way to check out the new on-going Ellis epic that has everyone talking, and now it is ads-free, full of extra material, and still the original cover price! As well as the full #1, the Doktor Sleepless Manual comes with ten full pages of back matter, including extended information (and perhaps a few clues...) on the technology and locales of Heavenside written by Warren Ellis for the doktorsleepless.com datashadow, and several all-new full-page paintings from maestro Felipe Massafera! This ideal entry point is available with a Regular cover by Jacen Burrows, a Painted Wraparound cover by Massafera, and a limited 1-in-15 Warning Sign.
Release Date: Jan-01-2014