Featured Titles

Featured Creators

Categories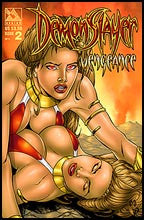 Demonslayer: Vengeance #2
$5.00
DEMONSLAYER: VENGEANCE #2
Retail Price: $3.50 US
Cover: Marat Mychaels
Writer/ Artist: Marat Mychaels
Readership: All Ages
Format: FC, 32 pages, monthly 2 of 2

PRODUCT DESCRIPTION: Demonslayer catches fire as this pulse-pounding second issue kicks the action into high gear. Xan unleashes his secret plan to get vengeance on Demonslayer once and for all with a shape shifter who turns into a clone of Demonslayer! Even her closest allies can't tell them apart and it's the cat fight of the year as the stunning Jacyln has to fight a mirror image of herself in a battle to the death. Marat Mychaels keeps turning up heat on his stunning artwork that made this series a smash hit at Image and is now burning up the charts at Avatar!
Release Date: Jan-01-2014