Featured Titles

Featured Creators

Categories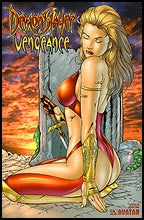 Demonslayer: Vengeance #1
$5.00
DEMONSLAYER: VENGEANCE #1
Retail Price: $3.50 US
Cover: Marat Mychaels
Writer/ Artist: Marat Mychaels
Readership: All Ages
Format: FC, 32 pages, monthly 1 of 2

PRODUCT DESCRIPTION: Demonslayer burned up the charts while it was at Image and now it has found the home it always deserved here at Avatar! This first mini-series unleashes the sexiest artwork from Marat Mychaels yet and a sultry new costume! Jaclyn faces a world of trouble as Asmodeous and his demon army have set out to destroy her once-and-for-all armed with a two powerful new allies. Can her skills as the Demonslayer help her against Xan, who was once slated to be a Demonslayer himself? This issue features a recap of previous issues as well so it serves as the perfect jumping on point for new readers. For fans of Exposure, Avengelyne, and Witchblade, this is a book you will love!
Release Date: Jan-01-2014