Featured Titles

Featured Creators

Categories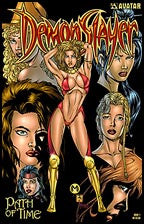 Demonslayer: Path of Time #1
$3.50
DEMONSLAYER: Path of Time #1
Retail Price: $3.50 US
Cover: Marat Mychaels
Writer/artist: Marat Mychaels
Readership: all ages
Format: FC, 32 pages

PRODUCT DESCRIPTION: After the horrific revelations of the future Prophecy, Jaclyn and Michael try to get back to their relaxing roots of archeology. But they don't expect to come across ruins that show the true history of the Demonslayer and the fact that there has always been one! So who was the Demonslayer before Jaclyn? This special book traces the demon fighters through the path of time. Get the first look at Demonslayers from all the ages, as much more is revealed about the legacy than ever before! Featuring special variant covers that show some of the different Demonslayers throughout time and a special guest artist cover by Matt Martin!

Release Date: Jan-01-2014