Featured Titles

Featured Creators

Categories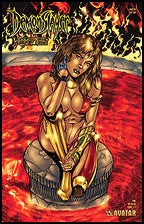 Demonslayer: Lords of Night #1/2 Fire Ed.
$5.95
DEMONSLAYER: Lords of Night #1/2 Fire
Retail Price: $5.95 US
Cover: Marat Mychaels
Story/Art: Marat Mychaels
Readership: Mature Readers
Format: B&W, 32 pages

PRODUCT DESCRIPTION: By popular demand, here is the next two cover set in the Demonslayer Fire and Ice series, both by creator Marat Mychaels! Demonslayer returns and this time she is up against the original Lord of the Night! Marat Mychaels brings back the magic with this thrilling new series that pits the Demonslayer against the vampire hordes of Dracula himself! This special edition is limited to just 750 copies.

Release Date: Jan-01-2014