Featured Titles

Featured Creators

Categories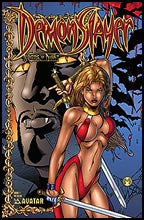 Demonslayer: Lords of Night #1
$3.50
DEMONSLAYER: Lords of Night #1
Retail Price: $3.50 US
Cover: Marat Mychaels
Story/Art: Marat Mychaels
Readership: Mature Readers
Format: B&W, 32 pages

PRODUCT DESCRIPTION: Demonslayer returns and this time she is up against the original Lord of the Night! Marat Mychaels brings back the magic with this thrilling new series that pits the Demonslayer against the vampire hordes of Dracula himself! Jaclyn simply wants to get away from it all, but she picks the wrong island to vacation on, as it is where Dracula is hiding! The resulting conflict may be the greatest challenge of the Demonslayer's life!

Release Date: Jan-01-2014