Featured Titles

Featured Creators

Categories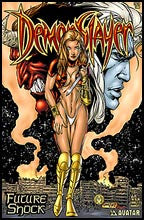 Demonslayer: Future Shock #1/2 Eradicate
$5.95
DEMONSLAYER: Future Shock #1/2 Eradicate Edition
Retail Price: $5.95 US
Cover: Marat Mychaels
Writer/Artist: Marat Mychaels
Readership: All Ages
Format: Full color, 16 pages

PRODUCT DESCRIPTION: Marat Mychaels draws the city in ruins, but Demonslayer is defiant on this new cover. In Demonslayer: Prophecy #1 Jaclyn learned that one of those closest too her was destined to bring about the collapse of civilization. She didn't believe it. This special issue is a flash forward twenty years in the future as the horrific Prophecy has come true. Jaclyn has been betrayed and as a result Hell's demonic armies have invaded Earth. Now the last living Demonslayer must stand as a beacon of hope for all of humanity. This special one shot book gives readers a special advance look at the future of Demonslayer, and it isn't a pretty vision. This special edition is limited to just 1000 copies.

Release Date: Jan-01-2014