Featured Titles

Featured Creators

Categories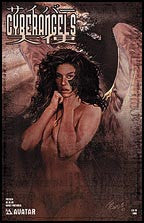 CYBERANGELS Preview Mercy Photoreal
$6.00
CYBERANGELS Preview Mercy Photoreal
Retail Price: $5.99 US
Cover: Thad Rhodes
Story and Art: Bill Maus
Readership: Mature Readers
Format: B&W, 16 pages

PRODUCT DESCRIPTION: This exciting photoreal cover features the sexy Mercy, as she would look as a real woman! Mercy, Allura, and the other Cyberangels are back in an all-new series by neo-manga master Maus! This special preview book looks at pages from the new series, some art in creation, and a few special surprises. This special cover is limited to 1000 copies.

Release Date: Jan-01-2014