Featured Titles

Featured Creators

Categories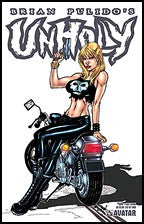 Unholy (2004 Avatar) #1 Fast Living
$5.99
Brian Pulido's UNHOLY #1 Fast Living
Retail Price: $5.99 US
Cover: Ron Adrian
Story: Brian Pulido
Art: Di Amorim
Readership: All ages
Format: B&W, 32 pages, monthly 1 of 3

PRODUCT DESCRIPTION: Ron Adrian provides this hot new cover of Penny ready to speed into trouble! The next Pulido sensation starts right here, with art by Di Amorim! This three issue tale is set in the crummy under-crust of modern day Detroit, Unholy is the story of Penny, a stoner, rebel, teen who is a non-believer in God. After a fatal accident, she's drafted by God to be His assassin, a God she doesn't even believe in. As a fallen angel, she is caught in a shadow war waged on city streets, in plain clothes, between Heaven and Hell. With her new found allies, a dominatrix, an ex-mob hit man and an alcoholic priest, she is dumped into the front lines of the war for salvation. But can she even survive her first twenty fours hours as a newborn fallen? Limited to 1000 copies.
Release Date: Jan-01-2014