Featured Titles

Featured Creators

Categories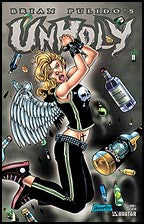 Unholy (2004 Avatar) #1
$3.50
Brian Pulido's UNHOLY #1
Retail Price: $3.50 US
Cover: Di Amorim
Story: Brian Pulido
Art: Di Amorim
Readership: All ages
Format: B&W, 32 pages, monthly 1 of 3

PRODUCT DESCRIPTION: The next Pulido sensation starts right here, with art by Di Amoim! This three issue tale is set in the crummy under-crust of modern day Detroit, Unholy is the story of Penny, a stoner, rebel, teen who is a non-believer in God. After a fatal accident, she's drafted by God to be His assassin, a God she doesn't even believe in. As a fallen angel, she is caught in a shadow war waged on city streets, in plain clothes, between Heaven and Hell. With her new found allies, a dominatrix, an ex-mob hit man and an alcoholic priest, she is dumped into the front lines of the war for salvation. But can she even survive her first twenty fours hours as a newborn fallen? As well as this regular cover, also available with covers by Ron Adrian, a wraparound by Amorim, a Black Leather cover with art by Amorim (limited to 600 copies), and a special Premium by Walter Geovani (limited to 2000 copies).
Release Date: Jan-01-2014