Featured Titles

Featured Creators

Categories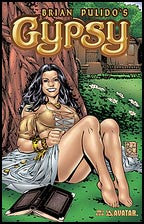 GYPSY #3
$3.50
Brian Pulido's GYPSY #3
Retail Price: $3.50 US
Cover: Paulo Siqueira
Story: Brian Pulido
Art: Paulo Siqueira
Readership: All ages
Format: B&W, 32 pages, 3 of 3

PRODUCT DESCRIPTION: Brian Pulido's latest epic lunges onto the scene with art by sultry sensation Paulo Siqueira. Antoinette, now a were-beast, works with Liza to control her berserker frenzy and locate the creatures that's been terrorizing the town. Town elders thwart them every step, leading them to believe the were-beat is one of the town's leaders? It's a race against time because the gypsies have been sentenced to death at dawn. Can they stop the terror or will Antoinette turn out to be an even bigger threat? The heart-stopping conclusion! As well as this regular cover by Siqueira, it is also available with covers by Gabriel Rearte, Richard Ortiz, as well as Wraparound and a special Premium edition with a cardstock cover by Paulo Siqueira.
Release Date: Jan-01-2014