Featured Titles

Featured Creators

Categories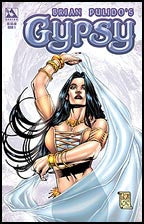 GYPSY #1
$3.50
Brian Pulido's GYPSY #1
Retail Price: $3.50 US
Cover: Paulo Siqueira
Story: Brian Pulido
Art: Paulo Siqueira
Readership: All ages
Format: B&W, 32 pages

PRODUCT DESCRIPTION: Brian Pulido's latest epic lunges onto the scene with art by sultry sensation Paulo Siquiera. Huntington, England. 1879 AD. Sisters Antoinette and Liza are gypsy thieves who love to trick the townspeople out of their money and their belongings. But when a great were-beast terrorizes the town, their world is turned upside down. First, the Mayor blames the gypsies, convinced they harbor the beast. Then, Antoinette is attacked by the beast, only to return as a creature herself! As well as this regular cover by Siqueira, it is also available with covers by Ron Adrian, Gabriel Rearte, an Art Nouveau cover by Richard Ortiz and a special Premium edition with a cardstock cover by Paulo Siqueira.
Release Date: Jan-01-2014