Featured Titles

Featured Creators

Categories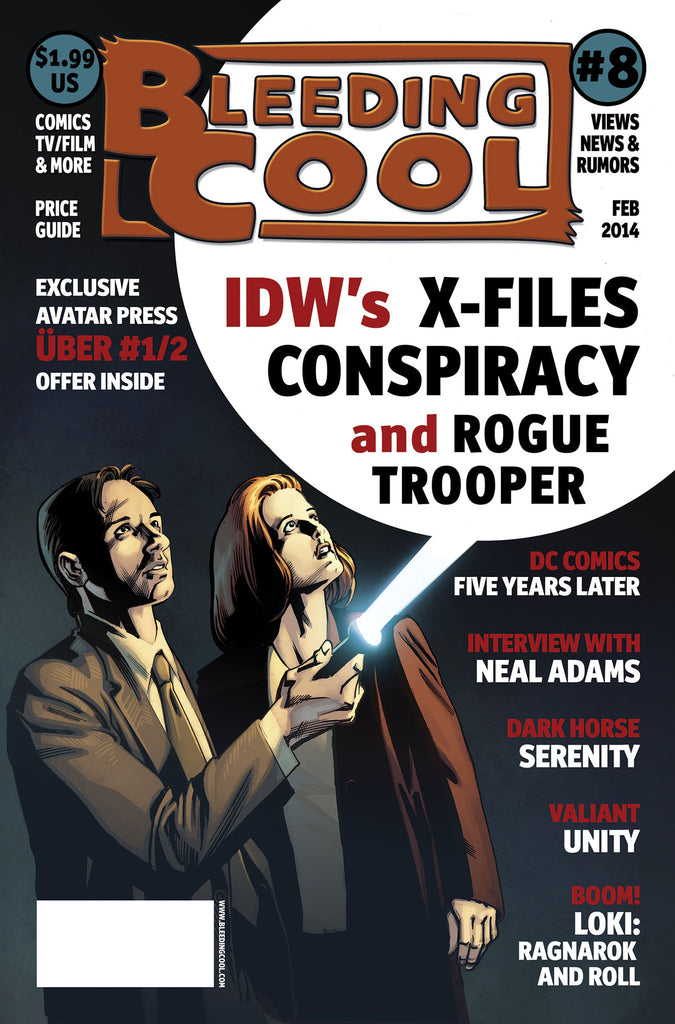 BLEEDING COOL MAGAZINE #8
$1.99
writer: Rich Johnston, Brendon Connelly, and Co.
MR, Full Color, 104 pages
UPC: 820023007721 08011
PRODUCT DESCRIPTION: Only $1.99 for over 100 pages of content you can't get online! Kieron Gillen's smash hit, Uber unleashes an exclusive #1/2 comic that you can only get right here! Uber #1/2 Sieglinde delves deep into her origin and each copy of Bleeding Cool Magazine #8 has a unique redemption code so you can read it. This code gets you one FREE digital copy of this issue, but also allows you to order a limited print copy, certain to be a must-have collectible for Uber fans. Also in this issue and on the cover, we celebrate Darwn Cook's new Richard Stark's Parker: Slayground series! The Parker comics have been multi-award winning masterpieces and we take an in-depth look at Cooke's work on them. We also uncover the secret new X-Files project coming out including a price guide focus on the classic series! RICH JOHNSTON tells us the winners and losers of 2013 and looks ahead to the biggest comics on the horizon! BRENDON CONNELY takes us behind the scenes of the biggest upcoming movies with exclusive photos and scoops on Hollywood's super events. Follow along with our COLLECTIONS INTO CASH and PRICE GUIDE features to keep track of the latest trends and ways to profit from your comics. Delivering over 100 pages per issue on a bi-monthly release schedule, each issue is full of articles that are NOT AVAILABLE ON THE WEB!
Release Date: Jan-01-2014