Featured Titles

Featured Creators

Categories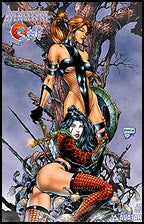 Avengelyne/Shi #1 Royal Blue Edition
$75.00
AVENGELYNE/SHI #1 Royal Blue Edition
Retail Price: $75.00 US
Cover: David Finch
Writer: Robert Lugibihl
Artist: Karl Waller
Readership: All Ages
Format: Full color, 32 pages


PRODUCT DESCRIPTION: The most anticipated crossover of the year is here! Two of the most popular woman in comics are in for the fight of their lives, against each other! The Earth Angel Avengelyne is drawn into conflict with a renegade sect of samurai warriors who overwhelm her and use her body to capture the spirit of the demon lord Akuma. This horrible fate for Avengelyne appears to Shi in a dream, and then she must use all of her skills to stop this new evil Angel of Death! The story stands alone for readers not familiar with the characters, yet also looks deeply into the core of each woman as they struggle against this horrific force of terror. Sean Shaw provides the stunningly detailed art and Nimbus Studios works their color brilliance to make this book beautiful. This ultra-limited Royal Blue Edition is limited to just 100 copies and every copy ships in a special protective case with a certificate of authenticity.
Release Date: Jan-01-2014