Featured Titles

Featured Creators

Categories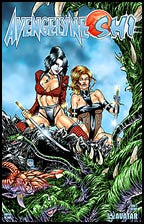 Avengelyne/Shi #1/2 Victory Edition
$5.95
AVENGELYNE/SHI #1/2 Victory Edition
Cover: Matt Martin
Writer: Robert Lugibihl
Artist: Sean Shaw
Readership: All ages
Format: FC, 16 pages


PRODUCT DESCRIPTION: The lead-in to the crossover of the year is right here! This all-new special prelude story take place in seventeenth century Japan as Shi's ancestor, Yuri Ishikawa, meets the angelic Avengelyne who comes to answer her prayer for help against a mighty demonic foe. The same demon who comes back to haunt them 400 years later in #1! Sean Shaw's stunning art and Nimbus Studios luscious colors make this a book you gotta have! This exclusive new cover special edition is limited to just 1000 copies.
Release Date: Jan-01-2014