Featured Titles

Featured Creators

Categories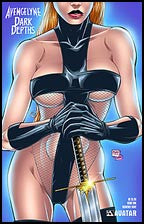 Avengelyne: Dark Depths #1 Heavenly Body
$10.00
AVENGELYNE: DARK DEPTHS #1 Heavenly Body Edition
Retail Price: $5.95 US
Cover: Matt Martin
Writer: Robert Lugibihl
Artwork: Rick Lyon
Readership: All ages
Format: FC, 32 pages, 1 of 2

PRODUCT DESCRIPTION: As if there was any doubt, Avengelyne's stunning figure is proudly displayed on Matt Martin's cover for this Heavenly Body Edition. Avengelyne gets swept into a underwater adventure as carnivorous creatures emerge from the sea and start eating innocent beach-goers. But they are only the tip of the iceberg as all sorts of underwater monsters are on the loose, and the mysterious and sultry Coral has something to do with it. Can Avengelyne stop these horrific ocean creatures, much less their master on the sea floor? Limited to just 1000 copies.
Release Date: Jan-01-2014