Featured Titles

Featured Creators

Categories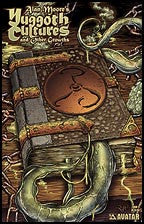 Alan Moore's Yuggoth Cultures #2
$6.00
Alan Moore's YUGGOTH CULTURES #2
Retail Price: $3.95 US
Cover: Juan Jose Ryp
Story: Alan Moore
Art: Jacen Burrows, Mike Wolfer, Bryan Talbot
Readership: Mature Readers
Format: B&W, 40 pages, monthly 2 of 3

PRODUCT DESCRIPTION: The magical mind of Alan Moore is unleashed in this new monthly series which weighs in at a super-sized 40 pages per issue! Yuggoth Cultures and Other Growths features tons of Alan's classic short sequential comic book stories that have been long out of print, stories that have never before been seen, and special developmental sections! This stellar second issue is packed with features, all written by Moore, including two long lost collaborations with Bryan Talbot, the classic Itchy Peterson story illustrated by Val Semieks, a short story drawn by frequent Warren Ellis collaborator Mike Wolfer, and another Lovecraftian story from the aborted novel Yuggoth Cultures, illustrated by the Courtyard artist Jacen Burrows! Fans of Alan Moore rejoice, many prayers are finally answered in this career-spanning series from the finest wordsmith in the industry!

Release Date: Jan-01-2014