Featured Titles

Featured Creators

Categories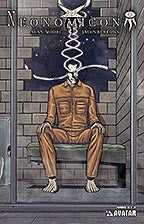 Alan Moore's NEONOMICON Hornbook
$5.00
Cover: Jacen Burrows
Writer: Alan Moore
Art: Jacen Burrows
Readership: MR
Format: Full Color, 16 pages

PRODUCT DESCRIPTION: Alan Moore fans, this is the big one, the first all-new Alan Moore horror series in ages is coming, and this is the first look! What is sure to be the most anticipated series of 2009 is finally unveiled in this specially priced book! Neonomicon is the all-new full-color sequel to The Courtyard, and promises to be one of Moore's most discussed works of all time! He takes his re-invention of HP Lovecraft mythos to new levels of madness as investigators look into what happened to legendary FBI man Aldo Sax. The path it leads them down is one of the most intense and disturbing works Moore has ever written. The series itself does not launch until Fall 2009, but this special book offers a look inside the huge amount of material that has already been completed. Featuring completed pages from #1, a look at some of Moore's original script, special design sketches, and an all-new interview with Jacen Burrows, this is far more than just a preview book. It is a glimpse inside the mouth of madness at the hand of the master. Two magical editions are available, the standard cover by series artist Jacen Burrows and also a special Leather cover by Burrows that are also signed by the artist, packaged with a certificate of authenticity, and limited to just 3000 copies!
Release Date: Jan-01-2014