Featured Titles

Featured Creators

Categories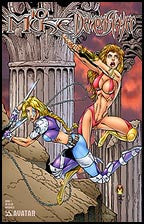 10th Muse / Demonslayer #1 - Mychaels
$4.00
10th MUSE / DEMONSLAYER #1 -Mychaels
Retail Price: $3.50 US
Cover: Marat Mychaels
Writer: Robert Lugibihl
Artist: Marat Mychaels
Readership: All ages
Format: Full color, 32 pages, one shot

PRODUCT DESCRIPTION: Image Comics' hot-selling 10th Muse clashes with Avatar's sexy Demonslayer in this landmark crossover event! Emma Sonnet's hopes for a peaceful New York vacation are shattered when she finds herself fighting for her life against Jaclyn Hayes' cursed lover Michael and then against the Demonslayer herself. But the real trouble begins when the villainous architect of this mayhem appears and orders the invincible beast known as the Egregore to slaughter both the Demonslayer and the 10th Muse! The stellar art team of Alan Moore's Glory is on this book, Marat Mychaels on pencils, Robert Jones on inks, and Nimbus on colors, so you know it will be top notch!

Release Date: Jan-01-2014