Featured Titles

Featured Creators

Categories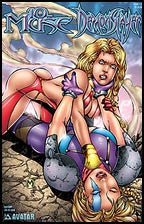 10th Muse / Demonslayer #1/2 Catfight Ed.
$6.00
10th Muse / Demonslayer #1/2 Catfight Edition
Retail Price: $5.95 US


Cover: Marat Mychaels
Writer: Robert Lugibihl
Artist: Marat Mychaels
Readership: All Ages
Format: full color, 16 pages

PRODUCT DESCRIPTION: Marat Mychaels turns up the heat with this all-new catfight cover between the two lovely ladies! Jaclyn Hayes and Emma Sonnet...the Demonslayer and the 10th Muse. Two women whose destinies have been forced upon them and whose fates become intertwined when a mysterious assailant renders Jaclyn unconscious and sends her demonic lover Michael on a mission to destroy the 10th Muse. If Emma loses this battle she will surely die, but if she kills Michael she will face the unbridled fury of the Demonslayer! This special edition is limited to just 1000 copies.

Release Date: Jan-01-2014