Featured Titles

Featured Creators

Categories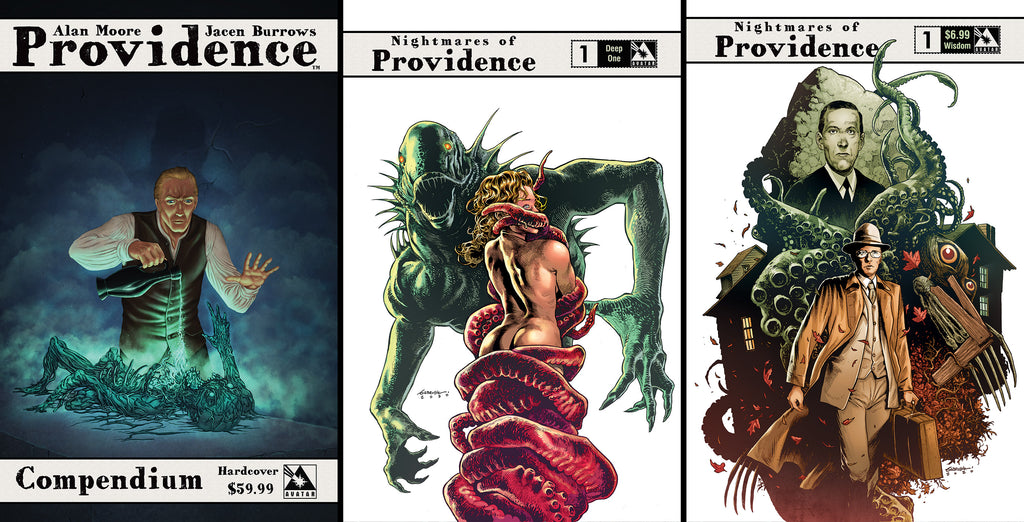 PROVIDENCE Compendium HC Deluxe Set
$59.00
Finally, the complete 480 page Providence collection!  All twelve issues!  This special set has the deluxe Hardcover edition, that WILL NOT be available mass market!  Only direct through us, and the Kickstarter.  Just to make it more tasty, for pre-orders only, we have a free copy of the Nightmares of Providence art book to go with it!
Nightmares of Providence is a 48 page B&W book featuring all-new art from a huge range of talent including Gabriel Andrade, Christian Zanier, Ivan Rodriguez, and featuring Daniel Gete! Stretch goals on the Kickstarter will include added pages, so it may be much bigger by the end!
This special set has not one, but two added books.  The Nightmares of Providence #1 Wisdom and Deep One covers!  Deep One cover that is NOT going to be part of this level on the Kickstarter, here as a free bonus for your support!
Your digital items will be added and sent to you via email as a separate order when they are ready this winter. These will be sent automatically so there is nothing further you need to do.
Included are:
Providence Compendium Hardcover Edition
Nightmares of Providence #1 Wisdom
Nightmares of Providence #1 Deep One
Digital copy - Providence Compendium
Digital copy - Nightmares of Providence #1
Release Date: Aug-28-2021